---
Traditional Card Game Finalist for the 34th Annual Origins Award!

The fast paced game of corporate accounting.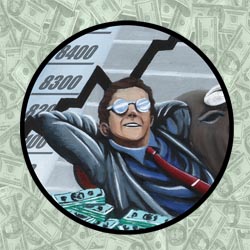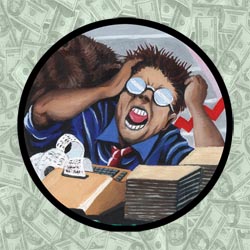 Insider Trading, Outsourcing, Cooking the Books. Who said CEO´s should have all the fun of running a company into the ground?

Now, with Bankruptcy: The Card Game, you and your friends can join in the fun! This fast paced game pits 2-6 players in a game of one-upmanship and dirty deals to see who can be the first to declare Bankruptcy!

In Bankruptcy players try to be the first one bankrupt - by having no cards left in their hand.
Play is fast, with 2-player games lasting an average of 5 minutes. But don't let the speed of
the game fool you. Deciding what cards to play, and the inclusion of 10 special cards,
can quickly change the business landscape.


Bankruptcy is the perfect game for families and the casual gamer looking for a fast, fun
game to play. The game can be learned in 5 minutes, and children as young at 8 will enjoy
the game (without realizing that they are learning basic math and logic skills). For teachers
looking for a fun way to teach students about the stock market Bankruptcy offers a fun and
entertaining way to introduce many basic stock market terms and concepts.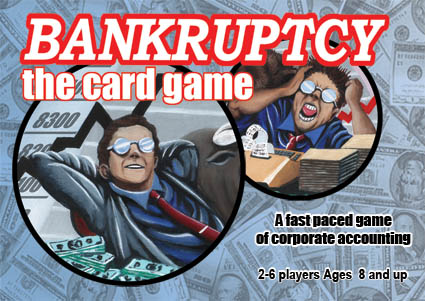 Bankruptcy is available for sale from Tangent Games for $19.95 $17.95 (save 10%).
(Price does not include shipping and handling of $5.95.
Kansas residents will be charged sales tax.)

Click on the PayPal link below to purchase your copy.

Game Concept and Design: Coy Kissee and Geoff Habiger
Artwork: Jim Gower
---
Download a free copy of the Bankruptcy rules in pdf format. (117 kB)

Download a free copy of our Multi-Hand Scoring rules.
Also included is a score sheet for you to copy and use to score your games. (pdf 304 kB)

Download a free copy of our Stock Portfolio Variant rules.
The same challenge applies - be the first to sell all your stock and declare Bankrupcty to be the winner. This new twist on our highly popular game will have you looking for new ways to declare Bankruptcy! (114 kB)



---
Foreign Language Translations of the Rules:
Japanese (translated by Atsushi Moriike)
Chinese (translation courtesy of Johannes Goethe from Swan Panasia)



---

Interested in purchasing copies of Bankruptcy to sell in your store?
Check out our Distributor List to find a distributor near you.



---

Retailers where Bankruptcy is available for sale. If you are a retailer and would like to be listed here, please contact us.



---

Check out the 5 Star review given by Wayne Tonjes at GamingReport.com.


---


Check out some pictures from this years GAMA Trade Show in Las Vegas. We want to send a
special thank you to everybody who stopped by and demo'd the game. Thank you for your wonderful comments and feedback. One way to bankrupt your business is to spend excess money on travel. Flying first class or business class can be very expensive. Finding business class tickets online is usually the best way to find cheaper flights.

---
---
---
---
This web site is © 2002-2016 Tangent Games. All rights reserved. Bankruptcy and the Bankruptcy logo are copyright 2007 by Tangent Games.